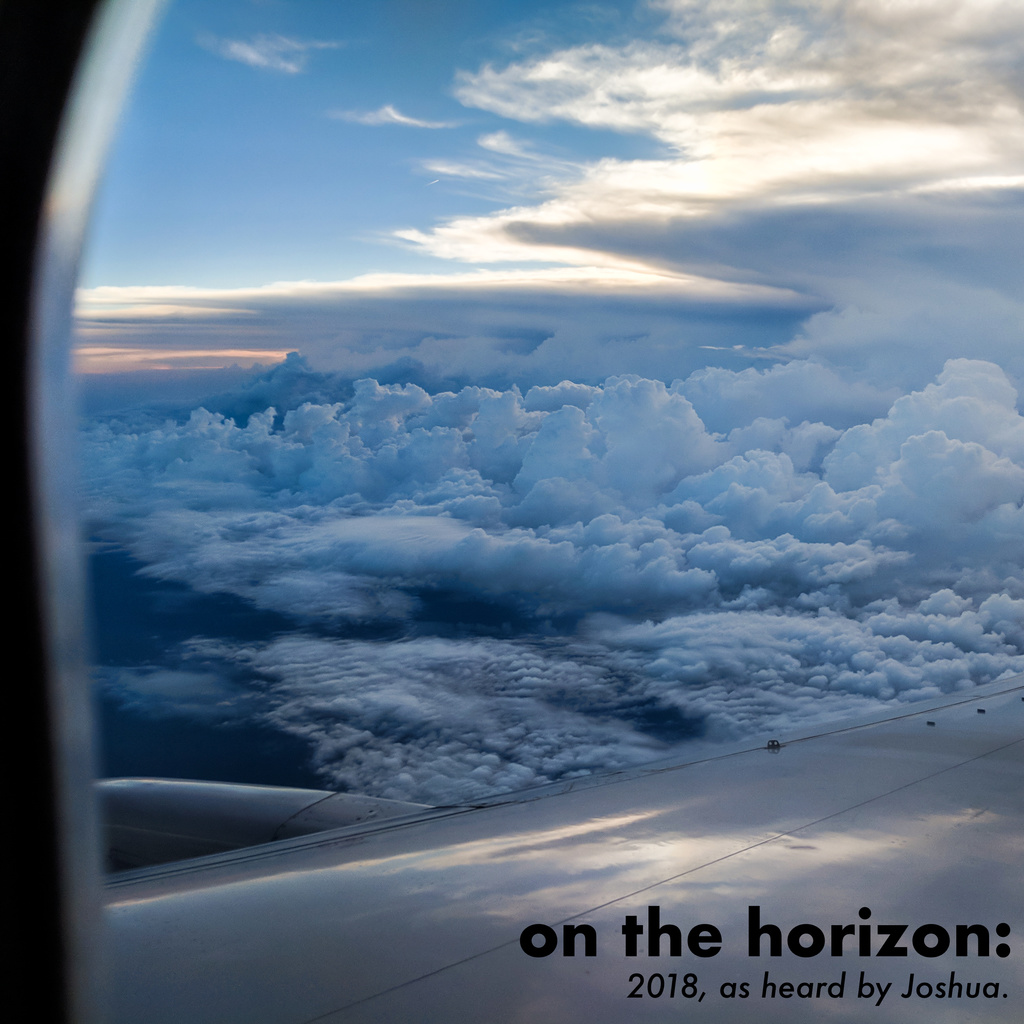 on the horizon: 2018, as heard by Joshua.
December 2018, Joshua Wise. Comments over on DreamWidth.
Download / Listen
Liner notes
This compilation is the first of what I hope to be a series of "Joshua's picks from the year". Some of these tracks did not come out this year, and some of them did not even come out recently; the important thing about them is that I discovered them this year! In this CD-length mix, my goal is that everybody who listens should pick up something new that they didn't know that they loved, and many should also find a track that they really quite dislike: if everybody loves everything, then I'm not being pushing my listeners out of their comfort zone enough, and if everybody hates everything, then I'm not giving anybody a reason to listen.
In this compilation, I've mixed together a range of music from a variety of genres, feelings, and tones. 2018 was a year full of so much, and I hoped that in here I could present some of the gamut that it spanned. Please join with me, then, in the soundtrack to my 2018.
Track list
0:00 — Camila Cabello – Havana (from "Camila", 2018)
3:34 — Metric – Dressed to Suppress (from "Art of Doubt", 2018)
9:09 — Helix – Like A Drug (from "Twin", 2018)
12:47 — Above & Beyond ft. Zoë Johnston – Sahara Love (from "Common Ground", 2018)
17:37 — Solarstone – Leap of Faith (from ".----", 2017)
23:24 — Gabriel & Dresden – Jupiter (from "The Only Road", 2017)
28:30 — Solitary Experiments – Crash & Burn (from "Future Tense", 2018)
32:52 — VNV Nation – Immersed (from "Noire", 2018)
39:13 — Gabriel & Dresden – I'm Not Like Everybody Else (from "The Only Road", 2017)
46:15 — Lamb – What Makes Us Human (from "Backspace Unwind", 2014)
50:23 — Seven Lions – Start Again (from "Start Again", 2018)
55:52 — Metric – Now or Never Now (from "Art of Doubt", 2018)
62:04 — Kamasi Washington – Will You Sing (from "Heaven and Earth", 2018)
72:12
Technical notes
This mix was cut together and edited using Ableton Live; I estimate that this first mix took me around 20 to 30 hours of work, including selecting tracks, cutting, mixing, test-listening, and writing up supporting documentation. Special thanks to Hazel Virdó and Matthew Wright for beta-testing early versions of this mix.